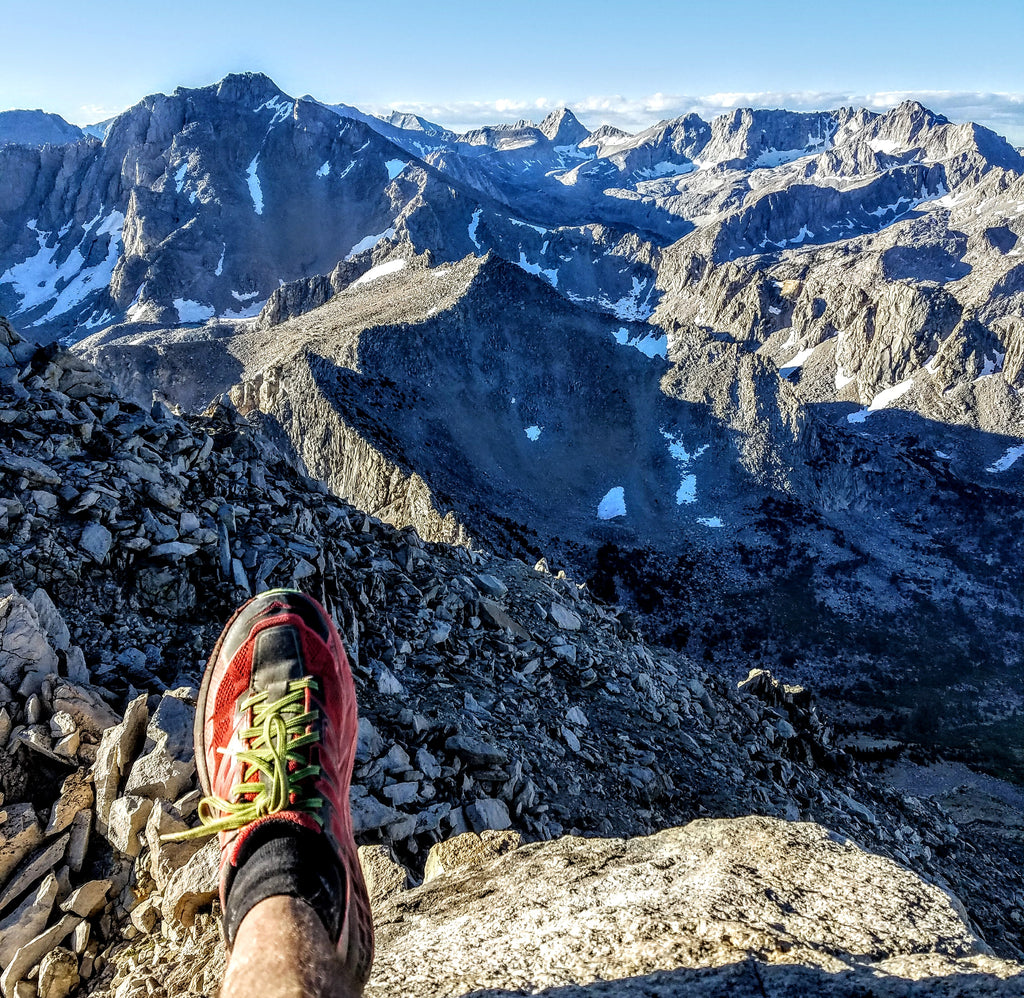 JMT Hiker getting passed with a 60lb pack:  "HEY, How did ya get back HERE with that tiny pack?"  Me:  I slept here last night:
  and in a winter bear den the night before:
 and this was my dinner.  
The John Muir Trail (JMT) is widely considered to be one of America's most stunningly beautiful trails and is sometimes referred to as "America's most famous trail".  Why then do only about 45 people start the trail per day?
Answers:  
It's very hard to get a permit:  only 45 are issued per day.
It's hard to escape from life for 2-3 weeks with no internet, phones, or connection.
The trail is not easy with 210 miles and 47,000 feet of elevation gain, all at high altitude where the oxygen is in short supply.
It's hard to carry a few weeks worth of gear and food on your back that far.
Despite these challenges, like many others, I had been drawn to the JMT, and it's been on my bucket list. It cuts right through the center of the Sierra Nevada mountains in the most scenic high alpine terrain, filled with lakes, peaks, rivers, meadows, and solitude.  For most of it's length, the trail is a full day's hike (or more) from any road so the only people you see are thru-hikers carrying big 40-70 lb packs for 20-36 days.
I have experience in the mountains moving fast and light, including a 15-hour speed ascent of the Nose on El Capitan and the Fastest Known Time for the ascent of Mt. Whitney.  The rules are different when you are moving fast.  For example, on El Capitan, if you are able to do the ascent in under a day, you don't have to bring overnight gear with extra food & water, which means you are lighter and can climb in a completely different style.  Conversely, the slower you go, the more supplies (food, water, gear) you need, which weighs you down so you climb slower, thus you need more food and water, which means you go even slower and need even more food and water... which makes you slower once again. This is not a new concept, and plenty of people use a "Fast & Light" approach to all sorts of adventures.
On the JMT, some people do what is called "Fast Packing"  It basically means you carry a 20 lb pack instead of a 60 lb pack.  You buy all the lightest possible gear and carry only the necessities.  Often this means you get very poor uncomfortable & cold sleep and eat unsatisfyingly little and plain food. 
I wanted to use my past experiences and abilities to break all the rules.  
Could I do the JMT with:
No planning or training?
No permit?
No heavy pack?
Get great sleep in real bed every night?
Eat great meals every night?
Cut completely out from life for less than a day or two?
The first 62 miles were easy for me to answer yes to every one of those points.
  Day 1:  Yosemite Valley to Tuolumne Meadows:  26 miles
From the start in Yosemite Valley, the trail goes up the popular steep trail by Nevada and Vernal falls.  After going above the falls, you continue to climb well past Half Dome and beyond until you top out at the high country above Tuolumne Meadows, where rocky peaks erupt from the lush green meadows. 
Up high in this zone, there were many thunder storms moving through, one of which let loose so much hail I had to hide under a rock until it passed.  As you approach the peaks you descend into a thick forest which leads to the headquarters of Tuolumne Meadows.  Here I ran into my wife Charity with our kids playing in the river, and I finished the day's run. They had already found a campsite and we had a great evening camping in the van with a delicious hot dinner. 
Day 2:  Tuolumne Meadows to Red's Meadow (Mammoth Area)
 After watching the kids for a couple hours in the morning so Charity could get in a good adventure trail run, I set off down the most beautiful valley in the area:  Lyell canyon.  The trail is nearly flat for the first 9 miles, winding along a river with an abundance of deer snacking on the green grass.  Just after passing these deer, I had the good fortune of passing a lady with solar glasses who let me take a gaze just as the solar eclipse was at maximum.
 At the end of the canyon, you climb up to Donahue Pass at 11,500ft with spectacular views of the terrain behind and the terrain to come.  This was a reoccurring bonus that I looked forward to during the entire journey.  Every 10-20 miles, the trail would summit a major high pass.  The passes always awarded great views along with a completely different change in scenery.  Donahue Pass marked the change from green meadows to a much more rocky, rugged, tree-filled landscape with gorgeous alpine lakes and towering massive mountains peppering the land.
Looking back down to Tuolumne.
Looking onward.
For the next 20 miles to Red Meadow (outside of Mammoth Mountain) the trail goes in and out of alpine lake basins.  These lakes, such as Thousand Island Lake pictured below, are phenomenally beautiful unspoiled works of nature's art.
 Day 3-5:  Reds Meadow South for 120 miles to an exit to Onion Valley
 Here the crux of the break-all-the-rules challenge showed up. If I could use my ability to move fast and go over difficult terrain, maybe I could exit the trail every night and meet up with my family and our camper Sprinter Van.  After studying the maps I saw this could be done if you can do:
Two 25 miles days followed by one 70 mile day
 40 is my limit for a day and that's coming into it fully rested.  70 miles is out of reach.  This assumes I take advantage of 2 outposts (MMR & VVR both) that I could book a bed and provide meals.  The route is just too remote and every exit I could find would take me far too long to make it practical for a night stop.  I was going to have to bite the bullet and plan for an overnight bivy (bivy = sleeping spot with little comfort).  I figured if I was going to bring bivy gear all the way to that 70 mi stretch, I might as well skip the 2 outposts and sleep on the trail for 3 nights.  So for 3 nights I would be sleeping on the trail and 3 nights would be in a nice bed.
 Day 3:
 I was embarking on a 120 mile stretch with no support (Four 30-mile days and 3 nights on the trail).  I planned to take a little as possible so I could move fast and not have my body break down.  My gear list spreadsheet aided me in planning a max starting load of 8.25 lbs on my back.  Water was going to be plentiful along the way, but food was unknown.  I only brought a little over 1 days worth of food for 4 days.  My plan was to take a detour and buy food at the Muir Trail Ranch outpost at mile 50. 
Leaving Red's Meadow I was in the zone to move fast and efficient.  I was so efficient, I did not turn on my phone for the first 8 hours and hence have no photos of that sector.  I got to the days end point at 30 miles with 5 hours left of day light, so I pushed on up and over the next big pass (Silver Pass 10,900 ft), just before thunder storms consumed it and had me running for the safer low lands ahead.  I secretly wanted to beat my projected pace by a day by doing 40 miles per day rather than 30.  This would cut out a night in the woods and replace it with a night in the van and a day of rest with the family.
I descended into the valley pictured above and started up the next big climb as the sun was getting low.  Just before dark, I reached the 40 mile mark, spotted a nice rock to sleep under and prepared for night.  I jumped in the nearby stream, set up my kid-sized ultra-light sleeping bag, built up a pine needle pillow, and hung the remaining food (save for one energy bar as my dinner).  I lay down under the bright stars and slept... well, slept about as well as you can on the ground.
Day 4:
  I was woken up by the cold right at first light. I packed up and was moving on the trail within 10 minutes.  It was a long climb up to Selden Pass at 10,870 ft, but the morning light on the high peaks was incredible. 
On the other side of the pass was a long descent into the next valley, which dropped quite far down into a much dryer forest as you find in the western Sierras. 
At the bottom of this valley was the Muir Trail Ranch outpost.  A quick detour off the trail brought me to their store, where I found that they sold every piece of gear you could want, but zero food.  (I had planned for this scenario by bringing 4 extra Clif bars and a LighterBro Micro, which would get me through in survival mode.)  Luckily for me, they had a ton of extra food discarded by thru-hikers resupply excess.  A bunch of random food items that should last me 2 days were in my pack and off I went.  At that moment, I committed to doing the 40 mile per day plan by only taking 2 days of food rather than the 3 days of my original plan. 
From the outpost, I had a short hike to get back on the JMT where a 20 mile, 4000 ft climb awaited me.  Half way up the climb, I entered one of the highlights of the trail:  Evolution Valley.  This valley is stunning: raging rivers cascading down from lake to lake, all surrounded by massive jagged peaks peppered with snow.  
 Up up higher the green grass gave way to high alpine solid rock and snow as I approached Muir Pass.
  At the top was an emergency hut built by the Sierra Club to save anyone caught up this high in bad weather.  
Beyond the pass lies new terrain...
A few more hours descending far into the next valley below brought me into the trees.  My legs were starting to question my brain's decision to push 40 mile days rather than the planned 30. I had odd pain twinges in my left leg, but ultimately made it to my next bivy near mile 40 for the day.  A roomy rock cave with signs a bear had lived in there not too long ago.  Thanks to the resupply, I had a taco made with an expired tortilla and tuna fish, and a handful of a stranger's abandoned homemade trail mix.   
Day 5:
I awoke before dawn and gave my legs and body a quick checkup hoping I had recovered enough for another 40 miler.  I was disappointed to feel pretty beat up and figured I better get moving quick to allow for a slower pace.  Maybe I would warm up and feel better.  I was on the trail moving before first light with my headlamp, feeling not so good, but still confident I could rise to the commitment I made when I passed on carrying enough food for the planned schedule.  
 I headed up a long climb to Mather Pass (12,080 ft), which sits below the massive 14ers forming the Palisades skyline. On down into another valley.  
I had not looked at any elevation profiles or taken a close look at the map for any of this trip.  I realized I was going to have to do 4 major passes today.  Most bad ass JMT hikers do 20 miles and one pass per day.  I had been doing double that up to now, but today was going to be a killer with 4 high passes over 40 miles.  Additionally, the other days seemed shorter than 40 miles due to my watch under reporting (set to the low accuracy/long battery life mode).  As I ran down the long valley, I was thinking to myself, this was going to be a Hard 40 miles, not "soft" like the other days.  Just then, I placed a step just wrong and rolled my left ankle pretty bad.  I instantly was limping / running but did not stop as I knew if it was bad, stopping would allow it to swell up and stop me and end my chances of making good mileage.  After a few minutes, the ankle started to loosen up and become more fluid as I continued to run along.  Not sure if I did any damage, but it seemed like it would not slow me down today.  
My mind wandered back into the surroundings as I started to make the long climb up to the second pass of the day:  Wow this lake is blue!  
 Made it to pass #2 (Pinochot 12,100 ft) looking onward:
 On the way down, my left leg had some twinges of pain that put me in a much more conservative pace.  With 25 miles to go, I did not want to break down here.   I took a 10 minute break to ice my legs in the river, which had worked miracles on previous days... but not today.   I cruised gingerly into the valley far far down where the Kings River cuts through the valley.  The only way across was this super swinging awesome suspension bridge.  The bridge was SKETCH!  All the wood planks were barely there and I felt like I was in the bridge scene in Indiana Jones.
 Over the bridge and up up once again on the way to pass number 3 for the day.  
 Passing Rae Lakes along the way
Once up to the third pass of the day (Glen Pass 11,980 ft) views of the terrain just passed:
and views of the terrain to come await.
Coming down this pass my leg was in bad shape and I was in a bit of pain, but still moving.  To add insult to injury, my GPS watch died.  It was 10 miles to the van from here with only one more high pass.  This was the only point in the southern half of the JMT where the trail comes less than a full day's hike from a car-accessible trailhead.  I went over Kearsarge pass (11,700 ft) and down 3,000 ft to to the Sprinter van in Onion valley.  I had been limping for miles, but I ran all the way down so I could spend time with the wife and kids before bed time.  
  It was a huge relief to be at the van.  I had made it through 180 miles of trail including the most remote and difficult sections.  I came in a day ahead of schedule so I could afford a day off.  Unfortunately, I could barely walk, so recovery was going to have to be magic.
My day off was awesome.  I played with the kids in the streams of Onion Valley while Charity went for an epic run to Glen Pass and back.  I could barely walk in the morning, but by dinner, I was able to walk with just a small amount of pain.  I was thinking I had a 50/50 chance to make the final 42 miles the next day.     
Day 6 Onion Valley to Mt. Whitney: 42 miles
I woke at 4:30 am and did a quick body check only to find my pains were still there.  I got up and on the trail quick, knowing there would be no running and I would need every hour of the day to make it.  The first mile was not going well.  It was if I had not recovered at all.  I kept at it, going up the 3000 ft climb to Kearsarge Pass to make it back to the JMT.  I thought my leg would loosen up and feel okay, but it never got better.  It was neat looking down on Onion Valley and the Owens's valley at the bottom.
From Kearsarge pass looking on the path of the JMT south bound.
I hobbled down the backside of the pass just 3-4 miles left to get back on the JMT.  The down was more painful and my odds of making it were not looking good.  I took about 30min, stretching the injury, debating on if its worth it to continue, and such.  I was pretty sure I could make it, but I was pretty sure it was going to be a 40mile death march rather than enjoyable as planned.  For that main reason, I decided, I'd be back in a couple weeks to finish this off with a good leg.  
When I turned around, I saw a 13,000ft peak (Mt. Gould) towering just a couple thousand feet above me.  Since I now was in no rush to go 40 miles, I decided to scramble to the top and get a higher-up view of the land I had just spent the last week in.  Maybe I could see the end of the trail on top of Mt. Whitney from here.
Sitting atop Mt. Gould with my bad leg, thoroughly enjoyed the 360 degree views.
 I bailed on the last 40 mile day, but considered this incredible adventure a huge success so far.  Seeing so much of the remote untouched Sierras was a tremendously incredible experience!  I was also happy to do this trail at a great pace.  Not too fast that I did not have time to see and enjoy everything, but fast enough that I could do it with nearly no planning, miss minimal work, eat and sleep well (mostly), stay close to the family, and carry a light comfortable pack.  (less than 3lbs for half the trip and under 8lbs for the other half). 
Thanks to my lovely wife, Charity for whose support made this all possible.  
Day 6  Onion Valley to Mt. Whitney: 42 miles  
After a 2 week recovery, I made it back on the trail an hour before sunrise on Friday.  The weather forecast called for afternoon thunder storms.  The plan was to make it over Mt. Whitney and down the mountaineers route before sunset trying to dodge any storms over the 3 high passes (Kersearge Pass 11,700ft, Forrester Pass 13,153ft, and Whitney summit 14,500ft). 
After going over Kersearge pass and through 6 miles of the next basin, I caught the first view of Forrester Pass on the skyline.
Looking up at Forrester Pass
View looking onward fro the top of Forrester Pass
The mountains took on a different character at points.  They looked more like the far southern Sierras with a bit less green and streams. 
Approaching the backside of Mt. Whitney, you cannot quite see the summit.
 Mt. Whitney from the backside
Mt. Whitney from the front
 Standing at the base of the backside of Mt. Whitney looking west.
Standing on the summit of Mt. Whitney.   The looming thunderstorms scared everyone off the mountain and I had it all to myself. The JMT trail ends here at the highest point in the Continental USA.   Feeling tired from the run, but great to have made it!  
 Looking back on the entire JMT adventure, I feel incredibly grateful to have made it and seen so much of the Sierras from the inside.  There's not a single humdrum uninteresting mile along the entire 220mi route from Yosemite to Mt. Whitney: Countless lakes mirroring jagged peaks, waterfalls cascading and thunder over rocky cliffs, high steep snow covered marmot filled mountain passes challenge the body and mind, with deer filled green meadows that lighten the soul. It all tops off with an ascent of the highest summit in the Lower 48 offering 360 degree views of the entire US and beyond.
 Gear:
I didn't carry much:  My average pack weight for the trip was about 5lbs.  My gear list for the unsupported 3 days. I highly recommend a few items which really make the trip.
1.  LighterBro Micro MultiTool with mini Clipper lighter.  This is the only thing I brought for safety.  In a freak winter storm, the ability to make a fire quick was going to save me more than anything.  The LighterBro knife also came in handy to do some emergency repair to my Camelbak.  The mini Clipper lighter is refillable. 
2.  Rabbit running shorts.  I saw so many people in pants and they were all moving slow.  All the Rabbit shorts I own are super light, comfortable, and made for speed.   
 3.  Sawyer mini water filter:  I drank roughly 60lbs of water on the trail.  I'm certainly not going to carry that on my back!  This little filter weighs only 2 oz, and since there is water on nearly every mile of the JMT, I never carried more than 16 oz of water on my back.  I recommend this filter because you do not have to stop to pump.  Scoop up a 16 oz pouch of water and let it filter as you hike.